Need a new Melbourne date night idea… add some magic
Winter is finally coming to an end and the sun is (hopefully) coming out. In need of a new date idea but getting stuck on the same old haunts? A movie just not getting you as excited as it used to? Discover Melbourne's best hidden secret, a weekly illusion show at the five star Marriott Hotel
Impossible Occurrences is Melbourne's most well-kept secret, creating the impossible just inches from your eyes every Friday night in Melbourne CBD. This show has floored audiences from around the world and is currently ranked #1 on Tripadvisor
Literally Doing the Trick for Date Nights in Melbourne
Impossible Occurrences' resident magician Luke Hocking mystifies, engages and amazes with incredible displays of magic, illusion and mind reading. Allow Luke to manipulate your minds and your notion of reality with some of the most baffling magical displays to grace the majestic City of Melbourne.
Performed at Melbourne's famed 5 star Marriott Hotel with each performance limited to 60 people, is perfect for any date night as it creates the perfect up-close entertainment experience. Impossible Occurrences provides 75 minutes of boundless astonishment and wonder. Set in the lavish, decadent surrounds of the Marriott Hotel this is a couples activity that needs to be seen to be believed.
You will be lulled, mesmerised and ultimately thrilled as Hocking takes you on a journey through the art of deception, and your partner will leave in wonder from this marvellous date night idea. Hocking's a master of the unseen, the unbelievable, his craft is so renowned that it has even taken him to the Grand Final of Australia's Got Talent 2016.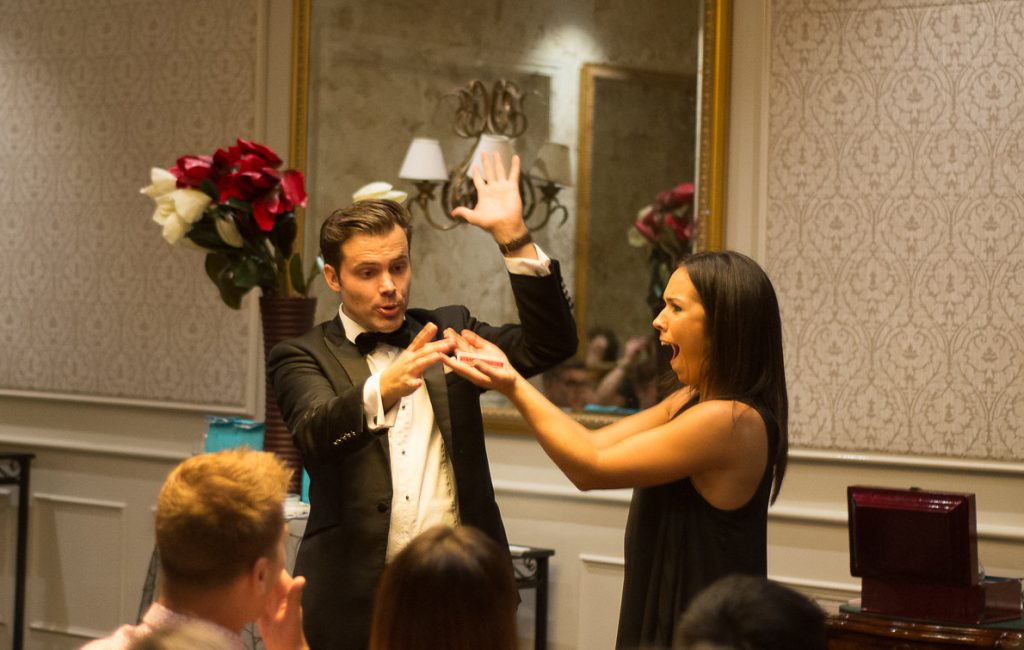 Make an Impression with Dinner and a Show
Whilst dinner and a movie might be a tired idea, the same simply cannot be said for dinner and a show from Impossible Occurrences. Enjoy a fabulous two course with wine from the team at the 5 star Essence on Exhibition. The wonderful team at The Marriott will happily accommodate for any guests' dietary requirements.
Book Now
So, have you given those tedious date ideas the flick? Are you looking to really take the dating to the next level? Well you know you have found that idea right here at Impossible Occurrences. Dinner and a show is from $79 per person and includes your delectable two course meal, complimentary bottle of wine and show.
Already made special dinner plans? That's fine, too. Click here to book tickets for Hocking's astounding magic show from $35 – the perfect date night idea.
Learn more about the show here
*Best suited for agesd 12 +