Discover Melbourne's Best Kept Secret
"MIND BLOWING"

–
Herald Sun
The lights are dim & you take your seat in an elegant room in a 5-star hotel. The stage is set and the mood is relaxed for you and your fellow audience to witness the impossible.
Your host is Luke Hocking: a local modern-day magician who fuses illusion, magic & mind reading into a theatrical magic experience like no other.
You've seen magicians before but probably never this close. A long the way Luke connects with his audience of 60 and begins to turn even deep-seated sceptics into believers with his modern-day miracles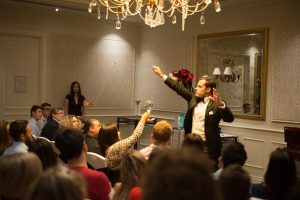 Impossible Occurrences blends elegance and astonishment to create an unbelievable 80-minute entertainment experience. Best suited for ages 10 and over, the audience size is purposely small to ensure a fully immersive closeup magic experience, tickets are a steal from $35, there is a dinner & show package also available from $79. Impossible Occurrences runs every Friday night 7:30pm & 9:30pm in the Melbourne CBD and is ranked #1 on TripAdvisor read reviews
This show has floored jaws in Melbourne for over 5 year. It's the longest running boutique theatre show of its kind. Over 25,000 people have witnessed Melbourne's most magical night.
 Wonders await you…